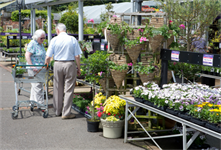 DIY sales rose 2% found Barclaycard, which sees nearly half of the nation's credit and debit card transactions. Barclaycard data shows that essential spending rose 4.8% year-on-year in October, as petrol expenditure remained high with 10.3% growth.
Non-essential expenditure, meanwhile, demonstrated a reasonable increase of 4.1%. Entertainment was the driving force behind this, rising 10.8% – powered by strong performances from pubs (11.7%) and restaurants (8.6%).
Entertainment was also boosted by ticket sales which performed particularly well at 22.1% growth.
The retail sector, however, continued to struggle. Department store spending contracted by 5.9% amidst high profile store closures, while spending on electronics reached just 1.8% growth, below the rate of inflation. Clothing spending also declined by 2.4% – the biggest dip since October 2017.
Barclaycard found September garden sales were up 4%.
Consumer spending data from Barclaycard previously found garden centres were up 0.5% in August, 8.1% in July. April was down 18.2% and June was up 10.5%, while May was 23.8% up.
UK retail sales increased 1.3% in October - covering the four weeks 30 September to 27 October 2018 on a total basis - against an increase of 0.2% in October 2017, according to British Retail Consortium/KPMG figures.
This is above the 3-month average of 1.1%, but below the 12-month average of 1.4%.
In October, UK retail sales increased by 0.1% on a like-for-like basis from October 2017, when they had decreased 1.0% from the preceding year.
Over the three months to October, In-store sales of Non-Food items declined 2.0% on a Total basis and 3.3% on a Like-for-like basis. This is above the 12-month Total average decline of 2.4%.
Shop prices have fallen by 0.2% annually with non-food items seeing a larger decline of 1.1% in October.
Meanwhile food sales increased 1.2% on a like-for-like basis and 2.3% on a total basis. This is below the 12-month Total average growth of 3.5%.
Over the three-months to October, Non-Food retail sales in the UK decreased 1.0% on a like-for-like basis and increased 0.1% on a total basis. This is above the 12-month total average decrease of 0.2%. October Non-Food sales saw growth for the first time in 4 months.
Online sales of Non-Food products grew 7.6% in October, against a growth of 4.0% in October 2017, the lowest growth of 2017. This is above the 3-month and 12-month averages of 6.7% and 7.4% respectively.
Online penetration rate increased from 25.7% to 27.6% in October 2018.
British Retail Consortium chief executive Helen Dickinson said: "Overall, retail sales growth remains low by historical standards. Sales in October saw only a slight uplift on the previous year, as cautious consumer spending continues into the final quarter of the year.
"Brighter weather and the anticipation of better deals in the Black Friday November sales have dampened demand for discretionary purchases. Moreover, low real wage growth over an extended period has left consumers with less money in their pocket, squeezing retailers' margins in the face of higher costs.
"Furthermore, the very real possibility of a no-deal Brexit presents a huge challenge for retailers who must contend with the prospect of higher import prices, and further drops to consumer demand. Time is running out and it is essential that the Government, the EU and the UK Parliament come to an agreement on the backstop and delivers a Brexit deal detail which gives confidence to both consumers and retailers, and avoids squeezing real wages further.
Paul Martin, UK Head of Retail, KPMG said: "October kicks off the all-important golden quarter, with some retailers earning the majority of their annual profits in these months alone. But with October's like-for-like sales flat lining at 0.1%, it was a bit of a non-starter.
"Demand was mainly dampened by continued economic uncertainty, as well as the anticipation for the deep discounting ahead – especially now that Black Friday weekend has become such a permanent feature.
"Grocery sales – which have been a ray of light – actually showed signs of restraint. However, clothing sales were more promising, with the colder weather towards the end of the month prompting a wardrobe rethink.
"The Budget highlighted efforts to relieve some of the pressures on the high street, but didn't go far enough to address the concerns of many retailers. With the potential implications of a hard Brexit added to the mix, retailers now need to juggle contingency planning alongside the busiest time of year."
https://ift.tt/2OwrGd6